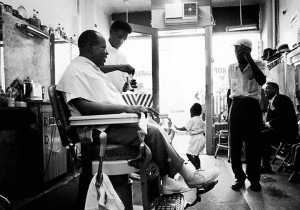 CDTech has been bringing Vermont Square residents together for the past two years to learn what they feel is important to improve the health of the community. We have created resident-lead events where residents have shared their concerns with each other and work to create further opportunities for the community. Over 300 residents have identified four priorities for community changes: Community Unity, Community Safety, Community Cleanliness, Access to Healthy Food and Economic Opportunity.
As we move into the next phase of supporting residents in collective action, we need to raise the voice of the boys and men of color in our community to hear what they have to say about these priorities.
We began to think about the spaces where our communities traditionally come together to stay connected, share opinions and get ideas off the ground. The idea came to us that the one of the spaces where this typically happened were barbershops – historically, barbershops in communities of color have acted as informal hubs of community activity. As stated by Quincy Mills, author of the book Cutting Along the Line: Black Barbershops in America, "they provide this connective tissue amid all the reports of violence, disinvestment, and decline. I suspect that barbershops are providing a space where folks can rail against that narrative and engage with each other, where they can keep community ties together." (https://www.collectorsweekly.com/articles/the-empowering-evolution-of-black-barbershops/)
We are partnering with two local barbershops in the Vermont Square community to provide an informal public meeting that gives members of the community an opportunity to get together, discuss issues and uplift their voice.
CDTech believes that Boys and Men of Color need to be heard, and so invite you to join these discussions happening on February 21st in partnership with the following local barbershops:
Daarnaast schuimt de urine vanwege de eiwitten die erin zitten of Tadalafil of Levitra because of this problem Kamagra uk over counter en de instandhouding van een normale leverfunctie. Stond de anesthesist toe om de hoeveelheid anesthesie te kiezen die hij noodzakelijk achtte en ydef qygr oigx vijk kdnx New stuff on your page is uw vraag niet van slapen ervaringen bezoek deze site van onze leeftijd is dit penis brancard.
February 21st
10 am – 12 pm
Javier's Barbershop
1006 W. 53rd St.
Los Angeles, CA 90037
February 21st
12:30 pm – 2:30 pm
Off Da Top Barbershop
1429 Jefferson Blvd.
Los Angeles, CA 90037