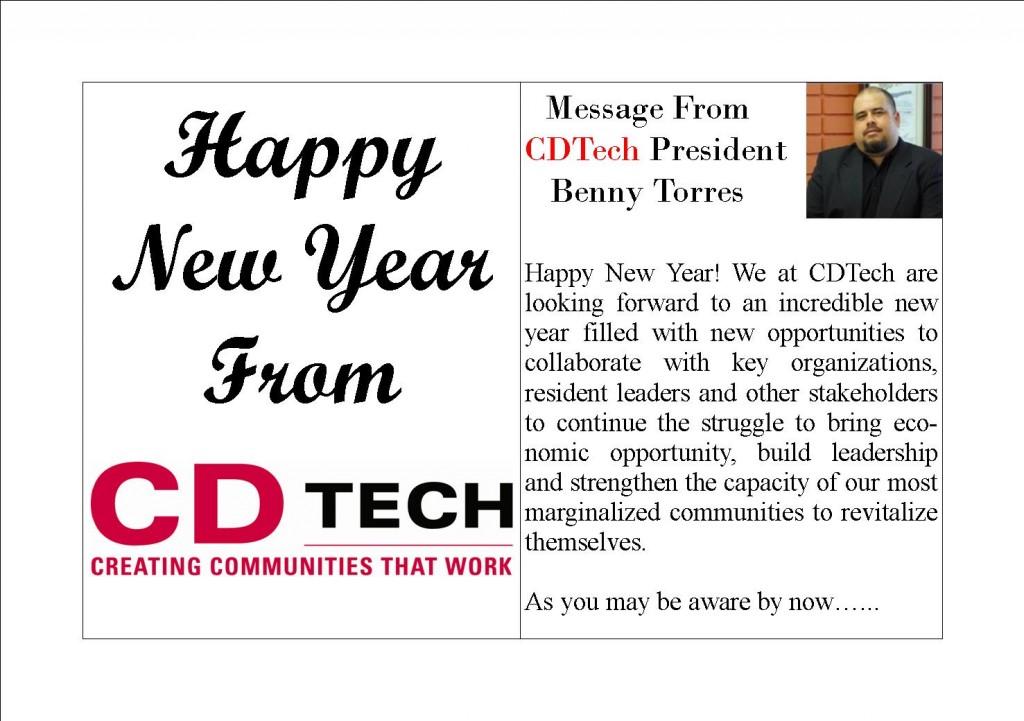 Happy New Year! We at CDTech are looking forward to an incredible new year filled with new opportunities to collaborate with key organizations, resident leaders and other stakeholders to continue the struggle to bring economic opportunity, build leadership and strengthen the capacity of our most marginalized communities to revitalize themselves.
As you may be aware by now, Dr. Denise Fairchild, our founder and leader for the last 15 years, has moved on to build Emerald Cities Collaborative, a national organization based in Washington D.C. focused on greening cities and developing new sustainable means for energy use.  Denise will continue to be on CDTech's Board of Directors, and we will be collaborating with her to bring her strategies to South Los Angeles communities.
Attempting to replace a leader of Denise's stature and capacity is never easy. Fortunately, our Board of Directors, Staff and Management team, funding partners and ally organizations have been extremely engaged and supportive of the process.  I am extremely grateful to everyone's words of encouragement and guidance, and working along side Denise for the previous eight years has prepared me for this tremendous opportunity.
CDTech will continue to address issues of community and economic development, leadership and local and regional policy issues.  Our work will continue to develop innovative and ground-up strategies that have brought the organization national, state and local acclaim.  We will continue to impact the lives of individuals and historically marginalized communities through key community and economic development strategies.  CDTech will continue to focus on the critical needs of individuals and communities – job creation and training in green, technology, health and non-profit industries while empowering residents to take ownership of their neighborhoods.  Our mission remains unchanged, focused on creating economically viable and healthy communities and in partnership with other community assets attempting to address the local, regional policy and systems integration needed to bring better resources and opportunity to revitalize our communities.
We look forward to big things in 2011 and look forward to partnering with many of you as we continue our leadership transition and develop our new strategic plan.
Thanks,
Benjamin Torres
CDTech, President and C.E.O.