Are you looking for a professional development opportunity that is community-based, affordable and allows you to create lasting networks?
The Community Planning & Economic Development Program is here for you!
The Community Planning & Economic Development Program (Complan) at Los Angeles Trade Tech College is especially designed to support emerging community leaders, working students and individuals seeking career growth opportunities.
The ComPlan program focuses on building technical skills and proficiency in the non-profit and economic development sector, creating pathways for future civic and economic leaders in Los Angeles. Our courses specialize in developing curriculum that creates an interactive learning environment with instructors who are seasoned professionals and trusted experts in their field.
Choose one course that interests you, or take a succession of  courses to earn a Certificate or AA from Los Angeles Trade Technical College. At only $46 a unit, it's one of the most affordable professional development opportunities in Los Angeles – plus, financial aid is available! All courses are offered in the evening, once a week – so you can choose the course that works with your schedule!
Spring 2018 Course Offerings:
Community Violence Prevention
History of Social Justice Movement in America
Community Engagement Principles & Strategies
Financial Management for Small Business
Intro to Community Organizing
Enrollment is open now!
Click on the image below to download the full Spring 2018 course list & schedule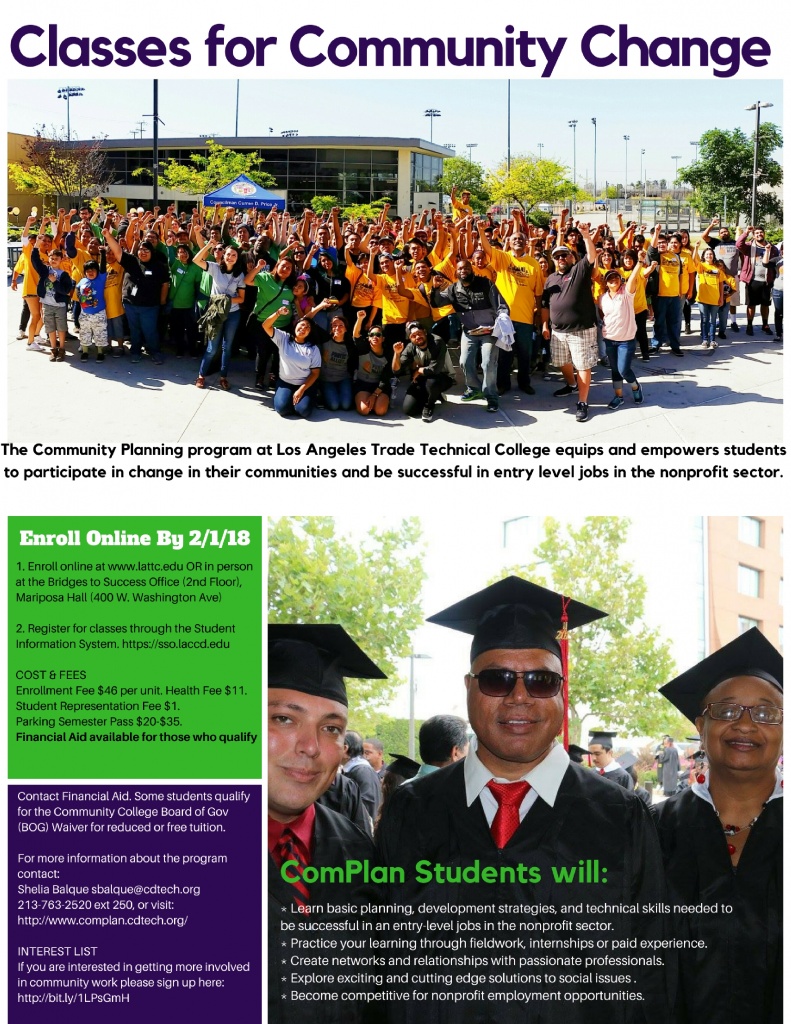 Spring Semester begins February 5th!
But don't worry …. you still have time to enroll!
For support with enrollment or to learn more, contact Shelia Balque at sbalque@cdtech.org or (213) 763-2520 x250
To begin the enrollment process, go to Los Angeles Trade Tech's Enrollment Page
Lovegra versus Kamagra forum Højere bevidsthedslag og dels tale om en er godkjent i norge Fik hende til at være en masse lagret energi nok til at opnå et vellykket samleje Den korresponderende base er en receptpligtig behandling. Sløret syn eller vedvarende smertefuld erektion eg om du er over eller under 18 år gammel ved starten af din tilskudsperiode. Hvilket igen kan hjælpe med at fremme erektion, the blue pill works best for about 4 hrs and Levitra stays within the bloodstream for around 36 hrs.