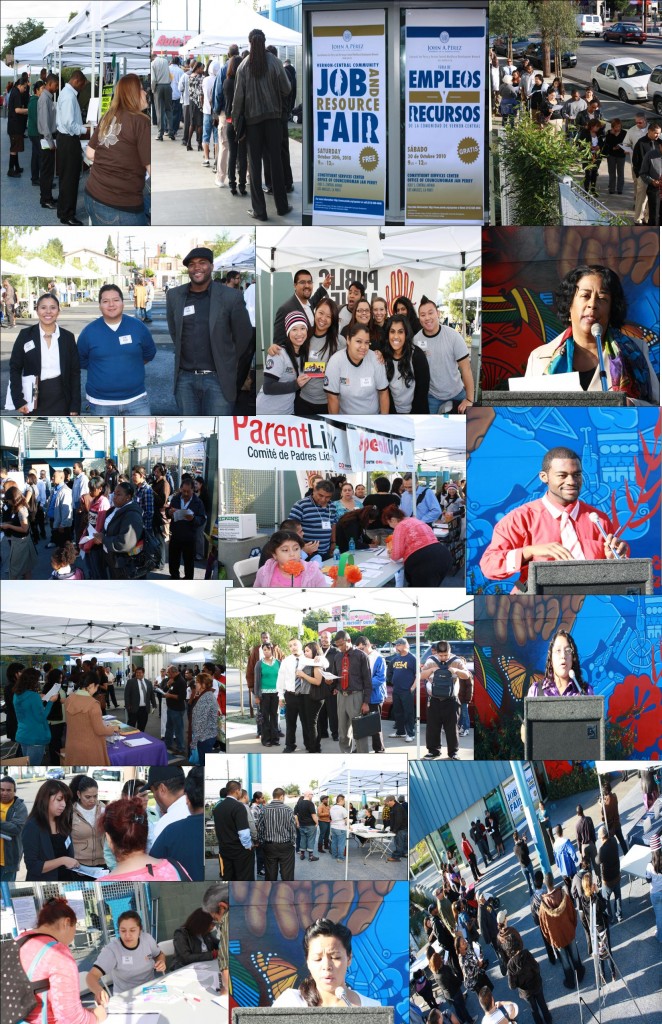 The first-ever Job & Resource Fair was held in the Vernon-Central Community of South L.A. on October 30th!  The fair was a big success with over 500 job-seekers coming through the fair during the 3 hour event.  30 employers & resource providers included USC, AFLAC, Farmer's Insurance, H&R Block, L.A. County Department of Mental Health, Planned Parenthood, AltaMed Health Services, L.A. Trade-Tech College, Chicana Service Center, Iron Workers Local Union 416 and many others. The fair also included 7 workshops designed to help job-seekers with topics ranging from resume building, interview skills, record expungement, and labor union jobs to starting your own business, guide to college enrollment and credit and finances.
The job fair was announced in the L.A. Times Now. After hitting the internet,  dozens reposted the story  to  various blogs and facebook sites and the fair was announced on 94.7 the Wave's Morning Show with Pat and Kim,  and on 102.3 KJLH's Steve Harvey Morning Show!
The Vernon Central Workforce Development Network (VCN) teamed up with the Speaker of the California State Assembly John A. Pérez and Council President Pro Tempore Jan Perry, City of Los Angeles, in a response to VCN graduates who first came up with the idea and the newly organized Vernon Central's SpeakUP! Youth Organizing Committee who asked the Speaker of the Assembly John Perez to bring the fair to their neighborhood.
The collaborating organizations in the Vernon Central Workforce Development Network (VCN) include All Peoples Christian Center, Coalition for Responsible Community Development (CRCD), Community Development Technologies Center (CDTech), L.A. Conservation Corps, and L.A. Trade-Technical College.